---
---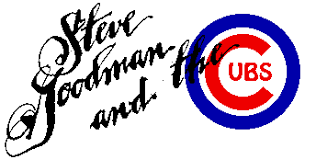 Stevie and the Chicago Cubs are forever linked in the mind of his Chicago fans. Stevie wrote two songs about the Cubs. The first is the famous Dying Cubs Fan's Last Requestand the second is the lesser known Go Cubs Go .

Stevie and the Chicago Cubs are forever linked in the mind of his Chicago fans. Stevie wrote two songs about the Cubs. The first is the famous Dying Cubs Fan's Last Request and the second is the lesser known Go Cubs Go.

Steve wrote Go Cubs Go for WGN radio (AM720) Go Cubs Go was played continuously at the park and on WGN Radio during the 1984. season. WGN Radio is part of Tribune Broadcasting, and owned by the Wrigley Family. (Yes the same folks who bring you gum and the same family that owns the Chicago Cubs.)
Also of interest is Steve's rendition of Take Me Out To The Ball Game in that he sings "It's root, root, root, for the home team, If they don't win, what else is new."
While Goodman wrote two songs about the Cubs, one of them specifically for Tribune Broadcasting Company's WGN radio, he never played a concert at Wrigley Field. He had asked on several occasions if he could do a benefit concert after a game but the offer was always politely declined. He was scheduled to play the National Anthem in the opening of Post Season Play in 1984, but died shortly before regular season ended. Jimmy Buffett, a long time friend stood in for Stevie.
But of course the song that will forever link Stevie with the Cubs is A Dying Cub Fan's Last Request. In Chicago, you can expect to hear the song around the start of baseball season every year. The song itself was debuted on Roy Leonard's WGN radio show the day on a Sunday morning after Steve had performed at a suburban folk club. Here is the story as told by Roy Leonard:
Most memorable of all the visits, however, occured on March 16, 1981, when Steve and Jethro Burns walked into our WGN studios around 11:00 a.m. They had just finished a weekend at Park West and Steve said he had a introduced a song the night before that he would like to sing on the radio for the first time. With Jethro on banjo and Steve's guitar for accompamiment, "A Dying Cub Fan's Last Request was heard on the radio the first time. Little did we know..."
True to the song, according to a Johnny Cash news parper interview, after Stevie died, Nancy and a few other people had a small ceremony before the opener of the Cub's playoff run and a portion of Steve's ashes were buried under home plate. In spirit we all know that these ashes like Steve's memories will forever be linked to Wrigley Field and a beautiful day at the old ball park (No Lights!)
Since 1984, the Cubs have failed to make it to the World Series in 1989, 1998, 2003, 2004.
This is the Year Steve. (Well maybe next year!)