---
Return to the Table of Contents
---
---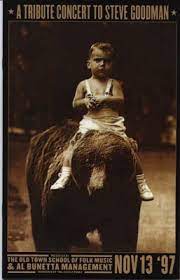 For those of you who want the highlights, this is the spot. For a more complete review, check out the link at the bottom of the page.
Here are some of the highlights. The video footage in the begiining was absolutely great. The woman sitting next to me started to cry for the first time of the evening when they showed video footage of Stevie singing "You're the Girl I Love" This is also one of my favorite Goodman songs. I consider it one of the best love songs ever written.
Iris Dement was the opener Saying she was nervous is putting it lightly. She had to follow the video production of Goodman.She opened by saying "I think I'm the only woman tonight who didn't meet Steve.I was told by a bunch of people that the the worst thing they ever had to do was follow Steve in a concert. I used to think well that's one thing I'll never have to dread."She glanced over her shoulder and looked at the screen and added "Until now." After a pause she added something like "And he was 80 feet tall"
She then started to play "If She Were You" and flubbed it on the first line. "Damn I missed that note! Well i'll keep trying 'til I get it right." She nailed the song the next time thru. She has an absolutely beautiful voice.
Todd Snider was next up and did justice to "This Hotel Room", but really bowled everyone over when he did his own song "My Generation part II..."
Skipping a few performers (these are just the highlights.)
Arlo Guthrie stunned the whole audience with his closing song. He discussed about how he went thru a folk school in NY (though it wasn't called that) and then proceeded to pick up a ukulele. "One of the great things about Schools of Folk Music is they make you learn all these instruments. No one famous ever played the ukulele. Imagine what would've happened if Bob Dylan had played the Ukulele?" He then proceeded to do his best imitation of Bob Dylan while playing the ukulele like nobody's business and delivering one of the best versions of "All Along the Watch Tower" I've ever heard!
Another major Highlight was the three women, Kathy Matea, Emilou Harris, and Iris Dement, doing Jambalaya while being backed up by John Prine's Band, Phil Parlapiano, David Jacques, and Jason Wilbur. Phil Parlapiano has got to be one of the best accordian players I've ever heard. His solo during this song was absolutely astounding. I'm not sure who would've been prouder of this cover, Steve or Hank Williams.
Continue...