---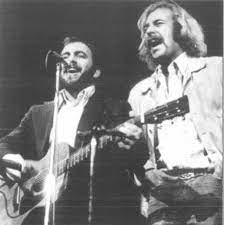 Return to the Steve Goodman Scrapbook

The Goodman/Buffett Connection

Many of Goodman's recent fans are finding him through the works of other artists. This is especially true when it comes to Parrot Heads, or fans of Jimmy Buffett. Buffett has recorded several of Stevie's songs and not surprisingly these songs have become favorites for Buffett fans. In fact many fans are amazed when they learn that songs such as "Banana Republics" was actually written by Steve Goodman and NOT Jimmy Buffett.

This is short list of song recorded by Jimmy Buffett that Steve Goodman had a hand in.
Written by Steve Goodman

California Promises
This Hotel Room

Written by Steve, Steve Burgh, and Jim Rothermel

Written by Steve and Michael Smith

Written by Steve and Jimmy Buffett

Door Number Three
It's Midnight And I'm Not Famous Yet
Where's The Party
---
Steve and Jimmy Buffett have something else in common. Both are known for their love of Baseball. Buffett became a Cubs fan probably due to the fact that you can pick up the Cubs from WGN-TV all over the Gulf of Mexico.

Shortly after Steve's death, Jimmy Buffett had an opportunity to sing the National Anthem For The Chicago Cubs. Later that Year The Chicago Sun Times ran an article about the occurrence:


Goodman  was a huge  Cubs  fan.  Buffett  said  Goodman  knew the  Cubs

were closing in on their 1984 National League Eastern Division title before he

slipped into a coma in a Seattle hospital. He died four days before the  Cubs

clinched the division.  Buffett  sang "The Star-Spangled Banner" for his friend

in the first game of the divisional playoffs at Wrigley Field. The  Cubs  won

13-0 on a clear sun-drenched afternoon.



"It may be my greatest baseball memory,"  Buffett  said. "I believe his

spirit truly was at Wrigley Field that day. It's like Martin Mull wrote in the

('No Big Surprise') book. He was an elf.



"I was so serious that I was singing the National Anthem in the shower. You

have to know where to start on that song, because if you start too high, you'll

get lost down the road. I walk out of my room and I see this guy in the hall

with this look on his face, like, 'Who is this wacko, right-wing maniac who gets up 

in the morning and sings the National Anthem for an hour?'



"Stevie  Goodman  would have loved that story.", said Buffett.




---
Currently Jimmy Buffett is touring the country and still performing at least two songs written by Steve Goodman, Banana Republics and Woman Going Crazy on Caroline Street. Last year Jimmy had touring success while Performing Frank and Lola. Jimmy also dedicated an entire album, Last Mango In Paris to Steve Goodman.


The dedication reads:


This album is dedicated with fond memories to one of the finest human beings

who ever spent time on this planet - STEVE GOODMAN.  I regret that his stay

was so short.  I miss you.

        JIMMY BUFFETT

        Home Port

        Daphne, Alabama

        Easter Sunday, 1985




To find out more about Jimmy Buffett, Check out Parrot Central